Dictatorship then and now
Sorry for the slow updates -- nothing newsworthy currently, so I'm just posting an old cartoon I made in 1986. The context of this cartoon was Ferdinand Marcos (in exile in Hawaii) was quoted to have described the Aquino regime as a "plain and simple dictatorship".
As a side note, I am peeved by young, post-martial law militants who say martial law under Marcos is more desirable than what we have now. Excuse ME!!! At least now we don't have to suffer Rustan's playing "DAHIL SAYO" whenever Imelda Marcos was in their premises shopping for shoes (which I experienced at least three times as a kid). If you're a twenty-something, anti-PGMA, holier-than-thou, "why-the-hell-are-the-rest-of-you-not-protesting-in-the-streets" kind of person and you say that sort of thing... well,
HINDI TAYO BATI!
Back then it was a real dictatorship. Today it's just plain pakapalan ng mukha.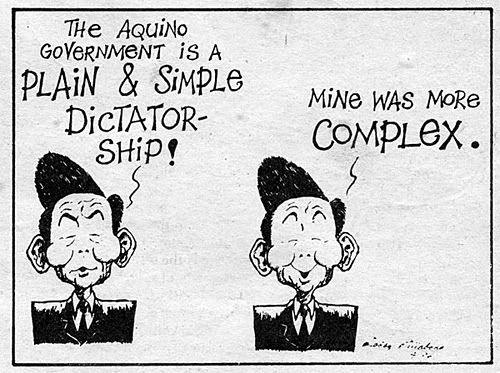 Technorati tags:
Marcos
political cartoon
Philippines